Online Registration is now closed, however you may still register with us on-site.
Please be sure to allow time to register on Thursday between 12 and 1pm or on Friday morning between 7 and 8am!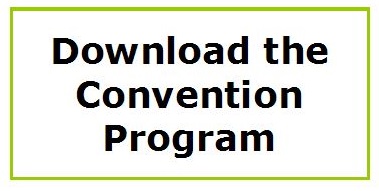 Location: The 2014 Convention will take place at the Sheraton Atlanta Hotel, 165 Courtland St NE, Atlanta, GA 30303. Conveniently located in the heart of downtown Atlanta with a MARTA stop just two blocks away, enjoy effortless access to any point in the city and easy access to Hartsfield International Airport.
Please note that the GSHA Room Block is now closed. Additionally, the Sheraton Atlanta has limited to no availability for the evenings of Wednesday, February 5th and Thursday, February 6th. To reserve a room at the Sheraton, please contact the hotel at 1-800-325-3535
For a listing of the closest hotels to our convention, please click here.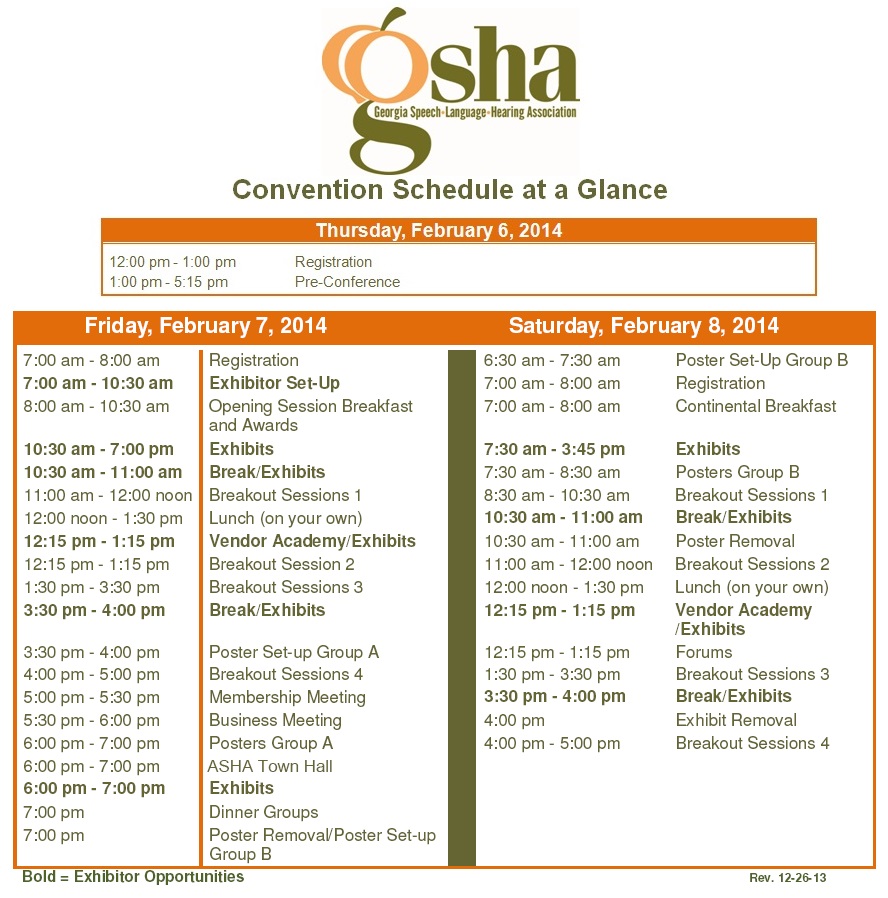 Agenda: The 2014 GSHA Convention will take place from Thursday, February 6 through Saturday, February 8th.
We are excited to offer an outstanding pre-conference event this year on February 6, 1:00 pm-5:15 pm, when John Halloran from The Center for AAC & Autism will present Language Acquisition through Motor Planning: An AAC Strategy.
On February 7, we kick off the 2014 Convention with a fabulous breakfast and presentation by keynote speaker Carolyn Phillips, Georgia Tools for Life, who will share the life-changing impact of AAC and what the future holds as we "spread our wings." The annual Awards Ceremony will follow her presentation to recognize the accomplishments of our honored colleagues. We are also pleased to announce special sessions on reimbursement and an ASHA Town Hall meeting that will focus on advocacy, leadership, and volunteerism by Edie Hapner from the ASHA Executive Board.
The full-conference registration fee includes conference attendance, Opening Session and Awards Breakfast (CEUs available for keynote speaker), beverage/snack breaks, and convention materials. Friday only registration also includes the Opening Session and Awards Breakfast.
The entire 2014 program is filled with new opportunities to learn and network, including a focus on AAC, vendor academy sessions, expanded time to visit with our exhibitors, focused poster sessions, and diverse presentations by local, national, and international experts. We look forward to seeing you in Atlanta!
Click here to download the complete 2014 Convention Agenda.
Convention Continuing Education Information: The Georgia Speech-Language-Hearing Association is approved by the Continuing Education Board of the American Speech-Language-Hearing Association (ASHA) to provide continuing education activities in speech-language pathology and audiology. This program is offered for up to 1.9 CEUs (Various levels, Professional area), including the pre-conference (.4 CEU) and full conference (1.5 CEUs). ASHA CE Provider approval does not imply endorsement of course content, specific products, or clinical procedures. PLUs will be applied for.
GSHA is also approved by the Georgia Department of Education Division of Professional Learning to award one Professional Learning Unit (PLU) for completion of requirements at the 2014 GSHA Convention. A PLU is a unit of credit based on 10 contact hours of formal instruction or its equivalent and verification that the intent of the formal instruction has been implemented. PLU credit is one type of credit that meets the requirements for teacher certification renewal established by the Georgia Professional Standards Commission (PSC).  The PLU requirement has been suspended for certain certificates with expiration dates between 6-30-11 and 6-30-15; however, you should check with your school system to determine if you should continue to earn PLUs during this time period.
Some school systems require that you get a Prior Approval Form signed before the convention to earn PLUs. Click here to download a Prior Approval Form. GSHA does not need your Prior Approval Form to approve your PLU; however, you should keep the form with your records, in the event it is required by your school system or the PSC.
The PLU process, approved by the Georgia Department of Education Division of Professional Learning, begins February 6, 2014 and ends March 8, 2014. Instructions and forms to verify attendance and complete a required Mastery Verification Project will be included in your convention packet. 
GSHA Membership: You may join GSHA at the time you register for the convention to qualify for the lower convention rate. GSHA membership runs from July 1 through June 30. If you submit a membership application with your convention registration, you will receive a $10 coupon good towards next year's membership. To become a member of GSHA and qualify for the lower convention rates, you MUST include a membership application and dues payment with your convention registration. You can download a membership application or join online.
Exhibitor, Vendor, and Sponsor Opportunities: GSHA is pleased to extend an invitation to our valued partner organizations and companies to participate in our 2014 Annual Convention through a variety of ways, including exhibit area and venue displays, event sponsorships, corporate memberships, and advertising. We look forward to welcoming you to Atlanta and developing a long-term relationship that is mutually beneficial. If there is any way we can be of further assistance, please contact us at 404.496.5559 or execdir@gsha.org. We have sold out of exhibitor tables, but many other opportunities are still available! Download the Exhibitor and Sponsor Prospectus here.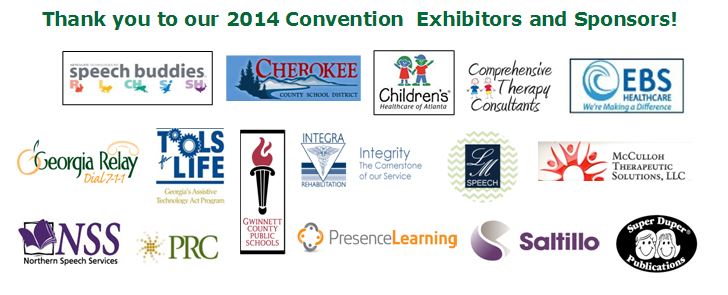 Articulate Technologies Inc                     Cherokee County School District                  Children's Healthcare of Atlanta                    Comprehensive Therapy Consultants
EBS Healthcare                                         Georgia Relay                                                   Georgia Tools for Life                                      Gwinnett County Public Schools
Integra Rehabilitation                               McCulloh Therapeutic Solutions LLC          Northern Speech Services                              PresenceLearning
Prentke Romich Company (PRC)          Saltillo                                                                Super Duper Publications                               LM Speech
Registration Fees:
Pre-Convention Registration Fees:
Conference Attendees: $35
Parent or Caregiver of a Person with a Communication Disorder: $35
Pre-Convention Only: $50
Full Convention Registration Fees:
Members: $270
Non-Members: $396
Student Members: $120
Student Non-Members: $230
One-Day Convention Registration Fees:
Members - 1 Day: $195
Non-Members - 1 Day: $245
Confirmation & Refund Policy: If you register online, you will receive an e-mail confirmation of registration. Requests for refunds must be submitted in writing to the GSHA Management Office and postmarked no later than January 6, 2014. A $35 cancellation fee will be assessed. Refunds will not be processed until after the convention. Please see separate Cancellation Policy for exhibitors and sponsors here.
Questions?
If you have questions, please contact the GSHA Management Office by e-mail at execdir@gsha.org, by phone at  (404) 496-5559, by fax at (678) 802-7326, or by mail at 925B Peachtree Street NE, Suite 620, Atlanta, GA 30309.
Convention Committee
Chair
Carol Ann Raymond, MBA, Ed.S., CCC-SLP
Vice Chair
Deborah Foushee, M.S. CCC-SLP

Committee
Vince Clark, M.Ed., CCC-SLP
Debra Cruce, M.Ed., CCC-SLP
Sonya Dodson, M.Ed., CCC-SLP
Akilah Heggs, M.A., CCC-AUD
Alison Hines
Melanie Hudson, M.S., CCC-SLP
Demetria Jackson, M.Ed.,  CCC-SLP
Sucheta Kamath, MA, BC-NCD, CCC-SLP
Kathy Newbern, M.Ed., CCC-SLP
Rebecca Lewis Sabo, M.Ed., CCC-SLP
Richard B. Satterfield, Ed.D
Bonnie Schaude, M.A., CCC-SLP
Maryanne Weatherill, M.S., CCC-SLP