Registration is now open for the 2015 GSHA Convention
Join us for a fantastic convention at the UGA Hotel & Conference Center in Athens Georgia Feb 26-28 2015.  Convention Registration is proudly sponsored by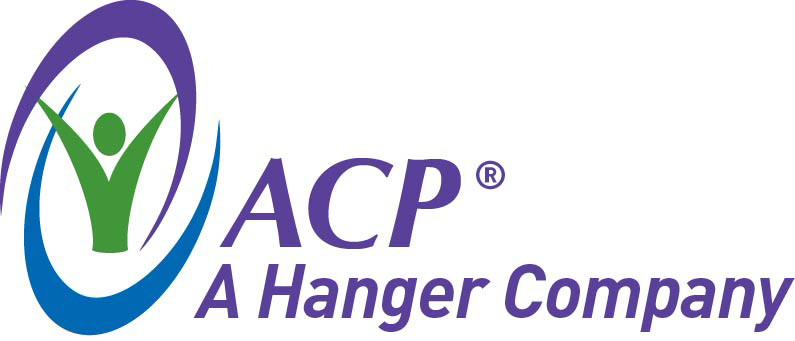 To download the paper form, click here
EARLY-BIRD REGISTRATION CLOSES JANUARY 26TH - DON'T MISS OUT!
GSHA is pleased to announce that the 2015 Convention will be offering 2 CEUs (20hrs*) of informative topics tailored for Speech Language Pathology & Audiology specialists, students and parent/caregivers alike. Our program is filled with new opportunities to learn and network, including expanded time to visit with our exhibitors, focused poster sessions, diverse presentations by local, national, and international experts and the continuation of vendor academy sessions. Refer to the schedule for details of topics and speakers.  
*20 Hours includes Thursday Session. The Georgia Professional Standards Commission which oversees the PLU system, is in the process of adopting new certification guidelines. The PSC is not accepting new vendors or courses at this time. GSHA can provide a certificate of convention attendance for hours completed for school based SLPs, while the PLU system is in transition.
Lunch Now available to be pre-ordered!
If you have already registered, Click Here to pre-order a sandwich
Alternatively, Register for Convention and be sure to tick the box!
Moderator Volunteers Wanted!
We are seeking volunteers interested in moderating presentations at our GSHA Annual Convention on February 26-28, 2015. The convention will be held at the UGA Hotel and Conference Center in Athens, GA. We have an outstanding program with speakers who will be presenting on a variety of pediatric and adult topics. Moderating for these sessions will be a wonderful opportunity to contribute to GSHA and network with individuals within our field.
Responsibilities involve monitoring the session time, introducing and assisting the speaker(s), and providing attendees with stamps for continuing education approval. Requirements to moderate include Current 2014-15 GSHA Membership & Registered for the 2015 Convention.
To Sign up Please follow the three easy steps:
Click the link to go to our invitation page on VolunteerSpot at 

http://vols.pt/CwLERA

.
Enter your email address: Please note - You will not be required to register for an account on VolunteerSpot. VolunteerSpot does not share your email address with anyone. If you prefer not to use your email address, please contact me, and I can sign you up manually.
Sign up! Choose your sessions. VolunteerSpot will send you an automated confirmation and reminders. Easy!
Please sign-up by January 26, 2015. Contact Carol Ann Raymond at raymond1@uga.edu, if you have any questions about volunteering to moderate.
2015 Schedule at a Glance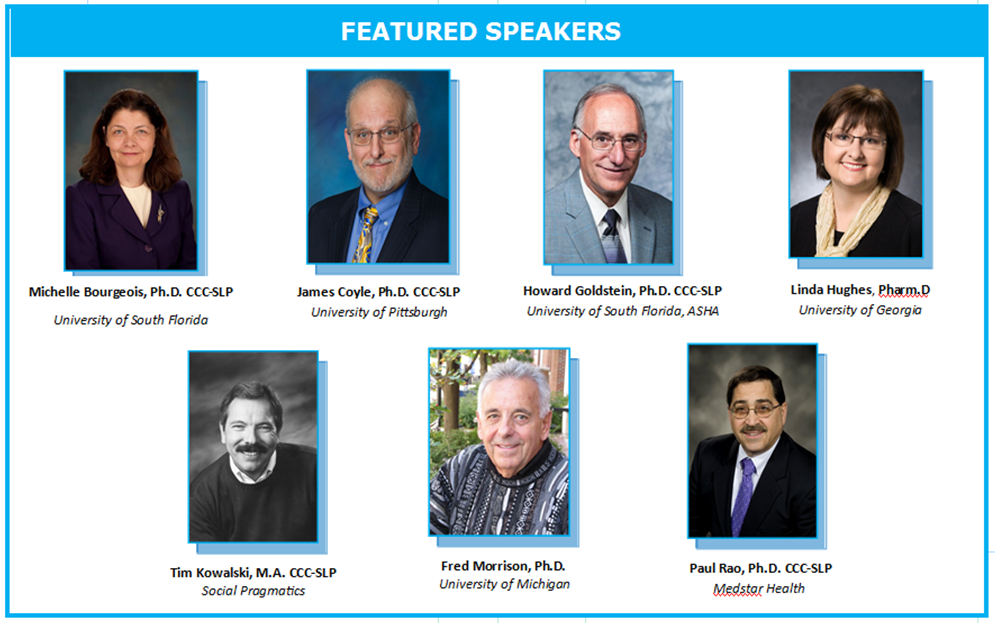 The convention registration fee includes Friday and Saturday conference attendance, Breakfast, Opening Keynote and Awards session (CEUs available for keynote speaker), beverage/snack breaks, wifi access and convention related materials. Handouts will be available online for attendees who prefer a paper copy to download prior to the convention.  Friday only registration also includes Breakfast, the Opening Keynote and Awards session.  
Be sure to include the pre-convention for this additional opportunity to network and learn!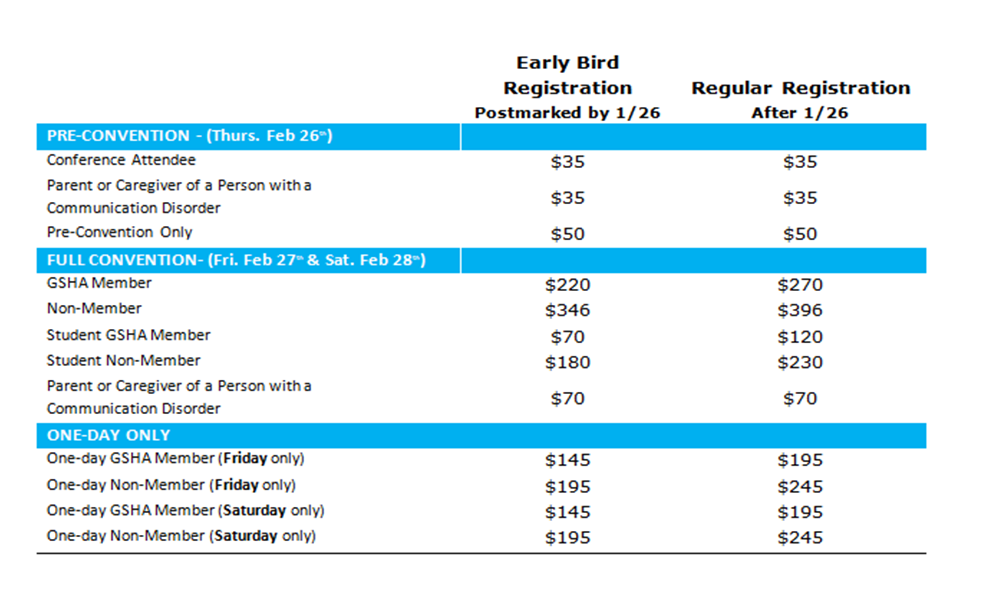 Register today to take advantage of the Early Bird Registration rates. Early bird Registration expires on January 26th 2015. 
UGA Hotel Reservations
GSHA rooms begin at $109 for a classic room. Book by phone at 1-800-884-1381 or 706-542-2134
or through UGA website, www.UGAHotel.com, using block code 82663.
2015 Exhibitors & Sponsors
Sponsorship opportunities are still available, please refer to the 

Exhibitor Prospectus

 for more information.
GSHA is excited to announce the following exhibitors will be joining us in Athens:
Poster Submissions - Extended until Jan 5th!
Poster presentation submissions provide students and professionals alike an opportunity to present information on a topic that meets ASHA continuing education standards. Student posters are eligible to compete for the annual GSHA Student Poster Award, which will be selected at the convention by a panel of judges organized by the Student Affairs Committee. 

Poster proposals must be submitted by January 5th, 2015 to be considered.
For More information on Poster Presentation Submissions & The Student Poster Competition Click Here
PRESENTERS
EXHIBITORS & SPONSORS

Poster Submissions

Poster Submissions for the 2015 GSHA Convention in Athens are now closed

Student Poster Competition Rubric

Deadline was December 1st




---

Call for Papers

Call for Paper Oral Sessions are now closed

Deadline was June 30th 2014.

If you would still like to present, please consider the
Poster Submission Options

Exhibitor & Sponsors

Would you like to Exhibit at GSHA 2015?

The 2015 Exhibitor Prospectus in now available!

Click here to view the 2015 prospectus

The deadline is October 31st - or until sold out!
(2014 sold out quickly so submit today to avoid missing out!)

---

Vendor Academy

Vendor Academy are now closed 

Are you planning to exhibit at GSHA 2015 and would also like to present?

Click Here for information on Vendor Academy